Google Listings Rule Local
It's no secret at this point that google pretty much rules our world. So as a dentist, beyond thinking about the best care for your patients, it's important that you, someone in your office or a service provider like us is on top of your local listing presence.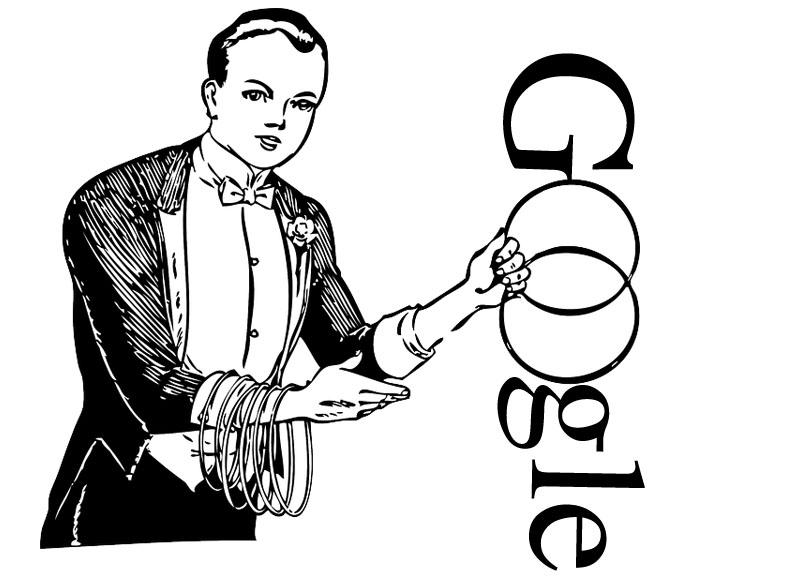 The good news is if anyone tell you you need to pay them $100's of dollars if not $1000's so they can wave their magic internet wand and get you to #1 in local listings…I want you to RUN, not walk away. Truth is, there's NO guarantees in search engine optimization. Nor is there any silver bullet to making your office come up ahead of your competitions. While it may be be a good idea to hire a professional you can also do lots of this on your own!
Let's Look At What Dictates Local Listing Placement with Websites for Dentists.
To find out how all this works, I always look to an established source of information thats known for good SEO info. In this case the most recent study conducted by Moz SEO gives us the top 8 Factors that dictate local listings. While the article is full of info I personally find wildly interesting, it's not all applicable to your practice, nor is it something you can do all by your self. For now we'll focus on that which you can put into action with just a little effort.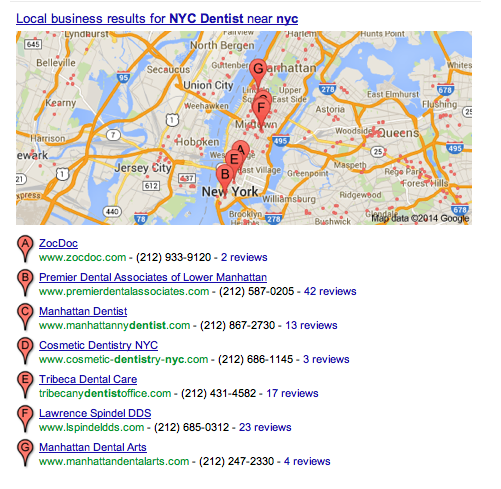 Place Page Signals (19.6%)
(Categories, Keyword in Business Title, Proximity,)
Ok so what's all that mean? Let's start with Categories, categories are simply refer to the types of businesses google lists. For example Dental Clinic, Cosmetic Dentist, or Dental Implants. All of which are viable category selections when it comes to creating your google local listing. What this means as a ranking factor is the closer the category to the search terms, the higher the rank generally speaking.

It's also helpful to have keywords in your title, but beware of whats called "keyword stuffing". You don't want to have unnecessary information or markety words anywhere in your business name when it comes to local listings. Proximity is also a big factor in googles ranking of local listings but isn't something you can focus on controlling much, other than just becoming a more viable result in the eyes of google for miles and miles around.
External Loc. Signals (16%)
(IYP/aggregator NAP consistency, Citation Volume, etc.)
What the hell are all those words and acronyms! Right? It's not all that complicated after all. What NAP constancy means is that anywhere on the web your Name, Address, and Phone are listed, whether linked or not, google considers it citation. This could be a yelp listing, foursquare, anywhere on the web your address can be found.Google looks for 2 things mainly you should be worried about. The amount of these, within local reason and their accuracy. If you've changed offices or moved the practice, or changed your phone number or website, make sure you update ANYWHERE your address can be found. Even if the one on google is accurate, it looks out to the web, makes sure it's the same anywhere else it finds you, and when it doesn't match, you go lower in the list.
On-page Signals (18.8%)
(Presence of NAP, Keywords in Titles, Domain authority, etc.)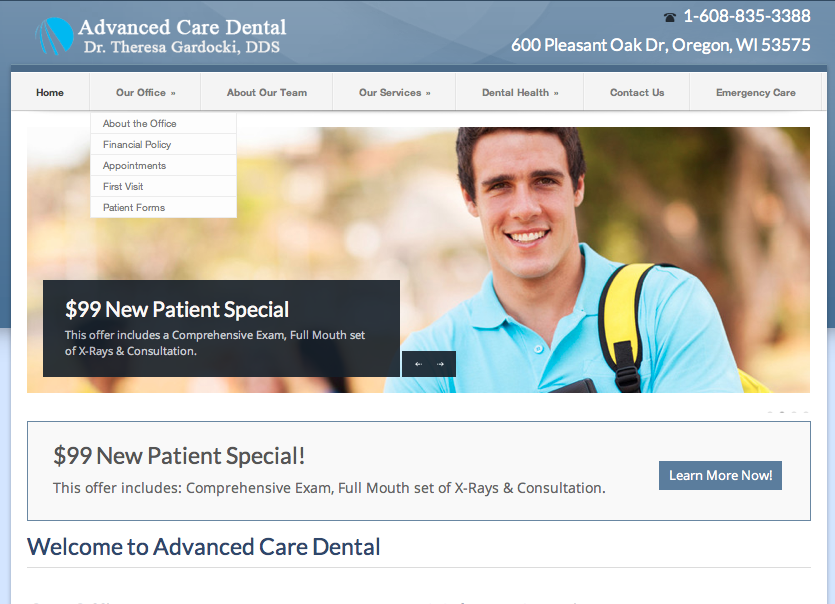 For on-page signals, google likes to see your Name, Address and Phone, here on known as NAP somewhere above the fold. By that we mean, if I land on your website, I shouldn't have to touch my mouse at all to see your address and phone number, and if I'm on mobile, I should be able to click it to call or get directions. If you're web designer isn't doing this for you already, there's a problem!Next up is keywords in titles, this means titles ON your site. So for example, you might have a page that has the title "NYC Dental Care Made Affordable" or anything really on the page that says "hey google, this is a place, this is a keyword and it's all important enough that we made it a title for the page"Lastly on the list is domain authority, if you want to hear more about domain authority, fill out our contact form and I can make a few hours free in my schedule to do a free coaching call. Honestly, I'll tell ya all about it! For the purpose of this lets just say you need to worry having a good site, that has the information people want to find, and its presented in a way people can use.
Review Signals (10.3%)
(Review quantity, Review velocity, Review diversity, etc.)
Debatably more important than anything that happens on websites for dentists, reviews are more important today than ever, and the will be even more important tomorrow. It's that serious! Yelp is #1, but google also give some preference to its own review system naturally. Be sure to get reviews on both yelp, and G+.
Social Signals (6.3%)
(Google+ authority, Facebook likes, Twitter followers, etc.)
Google loves it when people are social! Having lots of people in your circles and posting a cat picture to Facebook usually wont do the trick either. Contests, giveaways, and promotions where you offer a KILLER deal are all great ways to build up a Facebook fan base.
While there's more to be said, the tips here could easily lead to some missed ranking opportunities for your practice. If I was able to share something you hadn't hear before, or if I missed anything please let us know in the comments below!