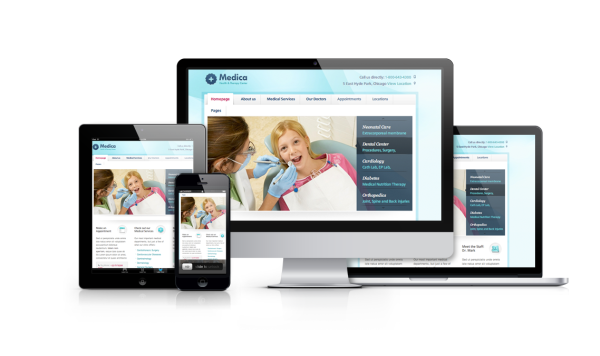 Ever Had The Feeling You Were Missing Out On Patients Who Visit Your Website But Never Call Or Appoint?
We Build Websites & Marketing Campaigns Designed Not Only Get Patients Appointing, But Also Integrate Inbound Marketing Methods To Capture Their Contact Information Such That You Can Follow Up With Them and Turn Them Into Lifelong Happy Patients.
What's The Big Deal About Dental Website Design?
There's nothing more annoying than having 100's of people land on your website every month without ever leaving a trace, and not knowing how to fix the problem yourself. You need a way to either capture their information, or get them to appoint right then but you have no idea how.
One of the Biggest problems you are facing is one you may not even know is there, and to be honest, neither did we web designers really until recently. The conventional wisdom was that content, and in the case and minds of many business owners, reputation is KING, not how your website looks. Most people think of it as simply an online business card, and really nothing more.
In 2004 a study was published called "Trust and Mistrust of Online Health Sites" Elizabeth Sillence, of the University Newcastle. This landmark study totally debunked "Content is King" Myth. Here's how it went down. Elizabeth and her team got together a study group and asked them whether or not they trusted a series of websites, and the practitioners behind them, and why. An overwhelming 94% of participants sited DESIGN problems as their major reason for not trusting these sites. Bad web design can immediately trigger mistrust in people, 94% in fact in this case. What's that mean for you?  It means if you have a stale looking site with even a fair amount of traffic, your missing out on $1000's, if not $10's of thousands in annual revenue.
Until today, the only way to harness the power of internet marketing to generate new patients was to suck it up, and invest literally TENS of THOUSANDS on their new site. The one thing standing in between you and a website that represents you and your practice in the light you deserve is the cost. Right?
That's why today, we're thrilled to announce Custom Dental Web is offering websites that not only convert more traffic into patients, but cost literally a fraction of what you'd pay from our competition. My name is John Morabito and for the last 4 years, I've been involved with helping dentists effectively market their practices and designing websites that turn traffic into paying customers and patients.
As the name suggests, I offer fully customized web solutions for dental practices of all sizes, no matter what your goals are online.
Most design firms do websites for 100's of businesses and clients, and offer no background in dentistry, or even any experience designing a website for dentists. Custom Dental Web offers both experience and specialization that you simply cant find for the price I am offering it for.
Let me show you exactly how custom dental web works 
First we meet either in person or virtually to identify your goals for your website, when it comes to both marketing and functionality.
Next, we take your ideas and bring them to life in a super clean and super modern web design that helps to drive patients to appoint on the spot, and if not at least give you their information before leaving the site. Imagine if you had the e-mail, address and phone number of just 10% of the visitors to your site on a monthly basis.
Let's look at it like this…if you are not currently using what is called a "Lead Capture Device" than even if we could capture JUST 5% of your traffics contact info who otherwise were leaving without a trace. Thing is many people are just "browsing" the web, literally. They may be weeks or months away from needing any of your services. If you're not offering a way for these people to get a little information from you, or stay in touch, you're missing out big time.
For easy math, let's say you have 500 visitors to your site per month, and if you get 5% of that we are talking about the names and e-mails of 50 potential patients. Now of that 50, lets say you can appoint 10% so 5 patients. Average lifetime value of a patient is anywhere from $2400 on the low end, and more recently numbers as high as $3000-$4200 ALV are common.
Let's look at that in terms of a year… 5 New Patents Per-Month = 60 per year @ $3000 ea = $180,000
If you're website is stale and hasn't had a face lift in years, consider the possibility you just might be missing out on that much revenue, not just once but annually.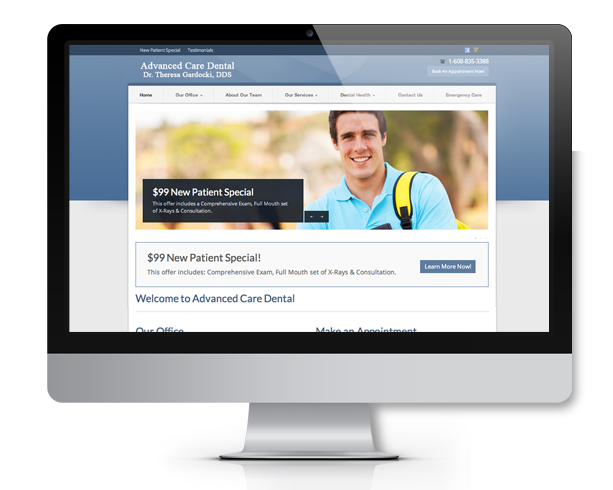 Our websites are designed help to capture more leads, but that's not all. Custom Dental Web sites also feature:
Fully Responsive Design. Meaning Your Site Will Look And Work Great on ALL Devices
Appointment Request & Contact Forms
Total Social Media Integration
Rotating Promotional Banners
Content Rich Pages To Promote
Customizable Patient Attracting Blog
Individual Pages To Promote Services, Such as General, Cosmetic, Restorative, Implant Dentistry or Specific Procedures, Such as Invisalign®, Six Month Smiles®, CEREC, etc.
Plus you'll receive simple step-by-step training videos to get you familiarized with adding content to pages, your patient attracting blog, and promotional banners
The early response to Custom Dental Web has been remarkable. Here's just a few of the comments I've received:
JD You have to be INSANE to be offering what do for a little as you charge. I'm planning on having you do websites not only for our practice, but for all my consulting clients!
JD is a pleasure to work with, his designs are always clean and modern. Best part is since he re-designed my site, my leads have staidly increased!
Now you may be wondering how much a site from Custom Dental Web is going to be.
And that's a fair question given that in the past, the only way to get a site like the ones I can design for you was to spend 100's of hours learning how to do it yourself or pay a big design firm $10,000 – $20,000 to do it.
However, the reason we created the Custom Dental Web is that we understand that a lot of practices are in a tough place with the economy the way it is and just can't afford to fork out 10's of thousands for a new site.
And so for a strictly limited time, if you grab your reservation in my design schedule, you can get a Custom Dental Web Site for your practice for a special one-time investment of just $1997.
So if you want to start showing up better in searches, turin more traffic into patients and receive a constant flow from your website, just click the "Schedule Consultation" button below!
In fact, I'm so confident that Custom Dental Web will impress the heck out of your patients, and have them asking YOU about the services you offer, that if you don't think the $1997 investment was worth every penny, I'll refund every penny, AND dinner is on me with a $50 restaurant.com gift card.
Don't you think, you've been sending people to an outdated and ugly website long enough?
The missing link you've been searching for to finally turn your hopes and dreams on the web into reality is just a few clicks away.
Imagine opening your email inbox every morning to a bunch of new requests for more information about your services?
Click the Schedule Consultation Now  to reserve your spot in my schedule and secure the $1997 pricing before it goes up on 7/1. Let's get you started today!
Schedule Your Consultation Now To Lock In The $1997 Pricing
Talk to me, John Morabito directly about how we can achieve your goals online and more! Hurry! This offer is for a limited time only! Consultations scheduled AFTER 9/30 ARE SUBJECT TO REGULAR PRICING. To Lock in this introductory offer of $1997 you have to schedule NOW! No deposit is needed to lock in your spot, and use your discount whenever you'd like within 6 months. No Obligation, No Risk and No Pressure.