For the last 10 years I have worked closely with dental practices small and large on their marketing, and through that experience I have learned a thing or two about increasing traffic and leads for dental websites. That said, the tips I'll be sharing don't just apply to dentists but are applicable to any private practitioner with a local market. We'll cover SEO, blogging, web design best practices and more.
1.) Start a Blogging…The Right Way
Sure, you've been told to start a blog, and even probably have in the past or have one now. If you're a dentist blogging can be a great way to not only attract traffic but also attract people sharing your website, and then having that website hit someone in a time of need. One of the problems that dentists and those marketing for dentists face is not knowing what to write about. Answer The Public is an amazing tool that allows you to punch in a general topic and see all of the questions that people as around the web associated with that term. It then creates a really cool graphic which can be used to help identify themes. When writing for your blog, make sure it's useful to readers, that it answers a question that you can provide some unique insight on, and that you go after a question or topic people are actually asking about. This next tip is key, don't ever go out and create a separate property to blog on, if you have a WordPress website or just about any other content management platform, your developer can help you to get a blog set up on your website vs a secondary property. For more tips on blogging for dentists checkout "Are You Working On Your Blog, or Is Your Blog Working For You".
2.) SEO Optimization: The Key To Optimizing The SEO Basics
While SEO is a very complicated and vast topic, there are some basics that all private practitioners and dentists should be aware of. To start with, the biggest missed opportunity commonly seen on dental websites is the lack of treatment pages. For example, Instead of having a page just for cosmetic density and talking about your crowns, veneers, and whitening on that page, have a page for each. This will not only help to attract more SEO traffic, but allow you to appear as an expert in that one treatment. When creating these pages, make sure that you have the town where you practice in what is called the title tag, that way it shows in Google.
For example:

3.) Conversion Rate Optimization: Have a Contact Form on Every Page
Many dentists websites, and in fact many small businesses don't have a contact form on every page. If you think having your phone number in the top of the page is enough, think again. Many users don't want to talk to a person, and instead rather schedule a consultation via email as people are at work and busy with their day. Best practice is to provide a form on every page of your site that allows users to reach out to schedule a consultation. It's important to talk to your web designer about what precautions you'll need to take to remain HIPPA complaint, however simply asking for an appointment is not considered confidential patient information. Make sure your form says something like "Free Consultation" as a call out with "free" will get more conversions.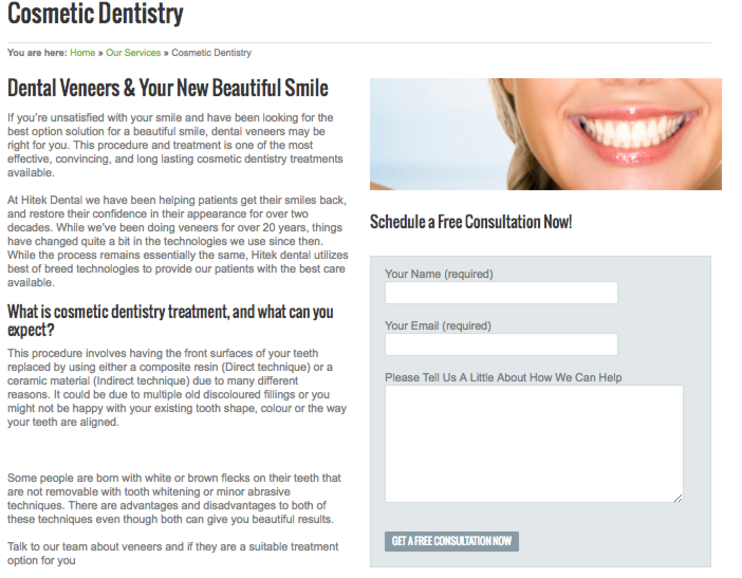 4.) Local Optimization: Claim Your Local Listings
While this tip has to do with other websites, it's hugely impactful to how much traffic your website gets through referrals visibility from these properties. Local listings are like little mini-websites on site like Google, Yellow Pages, Yelp and more. These profiles feature your business information and link to your website. If you don't claim these listings, often this information is wrong and can cause you to not show up in searches. Use local SEO tools like Moz Local, which is extremely easy to use and see where your listings are inaccurate or missing, or WhiteSpark which is a little more advanced.  
5.) Mobile Optimization: Think Mobile First
With the shift now leaning toward the majority of searches happening on mobile, it's more important than ever to think not just about having a mobile friendly website, but one that offers a super fast and easy user experience for users on mobile devices. Think about making sure contact information, and a comprehensive list of services are easily accessible to your website users on both desktop and mobile. For mobile users, your phone number should be clickable and allow them to call you with one touch.
Hopefully you can apply these 5 tips to your own dental or other private practice website and see huge gains like I have!