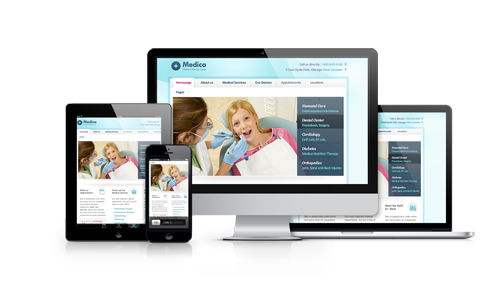 Is Your Website Scaring Off Potential Patients? If So... It's Costing You Thousands In Lost Revenue!
We design websites for dentists that can help turn your traffic back into new patient flow and put those lost profits back into the practice.
Learn More Now!
Quality Dental Web Design That Converts Traffic To Patients, and Gets You Found Locally
---
Find Out Why Up To 94% Of Your Visitors May Be Leaving Your Site Without Appointing Simply Based On DESIGN Flaws!
In 2004 a study was published called "Trust and Mistrust of Online Health Sites" Elizabeth Sillence, of the University Newcastle. This landmark study totally debunked "Content is King" Myth. Here's how it went down…
Read More Now!
---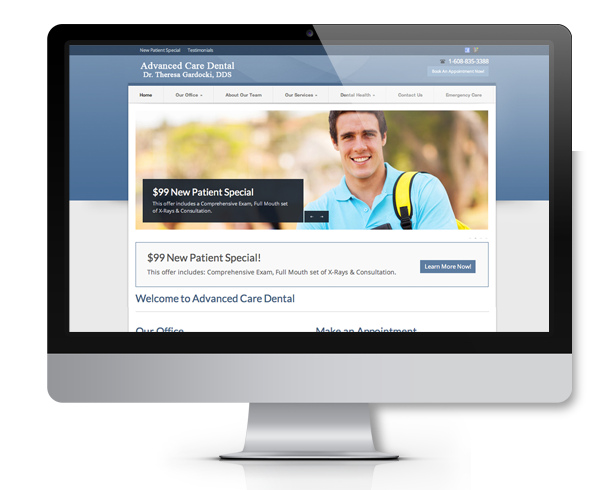 Our Web Design and Marketing Services
Design
Custom Design Styled for Dentists
Exclusivity & Ownership
Responsive Mobile Design
Educational Videos & Whiteboard Animated Videos
Cartoons and Diagrams
Custom Content That Converts
Dental SEO
On-Page Optimization
Authority & Backlink Building
Blog Creation & Optimization
Google Analytics, Google Webmaster Tools, & Sitemap
Monthly Traffic, Ranking & Engagement Reports
Local SEO Optimization
TOOLS
Online Editor for Easy In-House Updates
Custom Designed Blog Area
Easy To Use Control Panel
Custom Patient Forms
New Appointment Request Alerts
MARKETING
SEO/PPC
Retargeting
Whiteboard Videos
Social Media Marketing
Content Creation
Press Releases
Get Started Today With A Free Quote & Digital Marketing Strategy Consultation
Our Clients Love Us, And The Feeling Is Mutual!
JD is a pleasure to work with, his designs are always clean and modern. Best part is since he re-designed my site, my leads have staidly increased.
JD You have to be INSANE to be offering what do for a little as you charge. I'm planning on having you do websites not only for our practice, but for all my consulting clients!
Dental Website Design Made for Today's Web

Dental Websites That Know How To Be Social
Capture your visitors most personal information…their social media accounts! Our dental website design services include full social media button integration, making sharing and following your accounts easy.

Dental Websites That Allow You To Blog With Ease
Leverage the power of the publics thirst for knowledge of everything from dentistry to celebrity gossip, you can literally blog about anything in your area to get patients in the door. Ask us how to make it happen!

Fully Responsive Web Design For Dentists
If your dental offices website isn't responsive and optimized for mobile devices, you're missing out on patients. We can offer you a fully responsive site that looks great on any device.
Dental Web Design Pricing
Mini-Sites & Landing Pages
Laser Target Patients With Websites Devoted To The Exact Services They Are Looking For
Contact Form
Video Integration
Testimonials
Custom Header & Fonts
Get Started Now!
Gold Package
The Works, One of Our Fully Customized Top Of The Line Sites for Turing Traffic Into leads
Unlimited Pages
Blog & SEO
Video Integration
Custom Contact Forms
20 Free Stock Images
Promo Banners & More
Get Started Now!
Silver Package
Simple 3 Page Websites
Custom Contact Forms
3 Pages of Content
Custom Header & Menu
Promo Banner Slider
5 Stock Photos
Get Started Now!

Step 1: Consultation
Start by scheduling a consultation with us so we can find out more about your goals on-line. Whether it's just a redesign, marketing assistance or more, we're here to help!

Step 2: Design
We set to work designing your website to your specifications. Our websites are created on our servers & domain to start with, so you'll have a chance to approve everything before launch!

Step 3: Review
Before you new Custom Dental Web site launches, you'll have the opportunity to approve every inch, once you love it, we launch the site!
Dental Website Design Made Easy
Our process for dental website design is easier than can be. We offer a virtual smorgasbord of services you can tailer to your needs. Generally depending on the project your new website can be ready for launch within as little as 7 Days if needed, with no extra rush fees.
Need help marketing your new website, No problem! We offer Video Marketing Services, as well as social media marketing services.